Getting Started
Turning On/Off:
Press down hard and hold for 3-5 seconds.

Standard toy levels: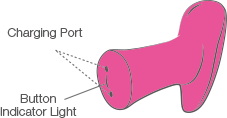 Charging
Turn off the device before charging. The cable can be plugged into any USB port or USB/AC power adapter to start charging. It will take approximately 1.5 hours to fully charge.
The indicator light will stay on while charging. Once it is fully charged, the solid red light will turn off. If you're unsure whether it's fully charged, you can view the battery indicator in the app.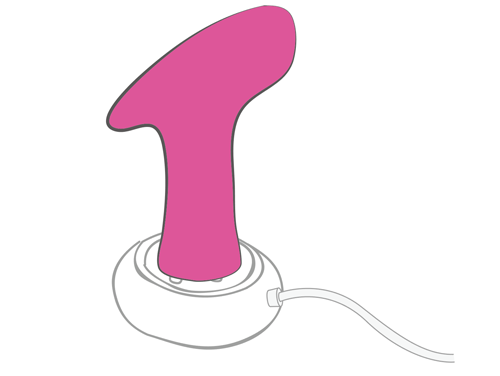 Note:
It is a magnetic charger and will only work if positioned correctly. When attempting to charge, if a solid red light doesn't turn on, rotate the cable 180 degrees.
Cleaning & Care
· Clean your device before and after each use.
· Clean with warm water and mild soap (or a sex toy cleaner).
· Dry thoroughly before storing.
· Keep away from extreme heat or cold.
· DO NOT boil in water (the battery may explode or water could leak into the toy).
Lubricant
Use lube at your own discretion. Only use water-based lube, as silicone or oil based lube may affect the silicone casing.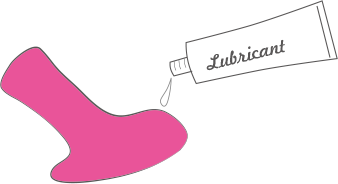 Usage Tips
You can adjust the low, medium and high levels to suit your needs.
Once in the programming mode in our app, you can store up to 10 patterns (that you create) onto Ambi.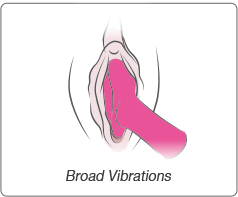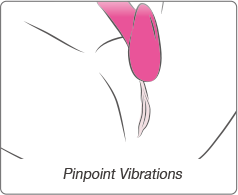 App Download
Compatible with:
·iPhone 4s/5/5C/5S/6/6+/6s/6s+/SE and later
·iPod Touch 5th Generation and later
·iPad 3/4/Air and later
·iPad Mini 1/2 and later
·Android 4.3 and later with Bluetooth 4.0 enabled




Remote
Go to Download Page
Pairing with Your Devices
1. Press and hold Ambi's button to turn on the toy. A light will flash to indicate it's on and ready to pair.
2. Click the icon.
3. Tap "+" to begin searching. After the toy is found, tap "Done". The light will stay on to indicate it's connected. Your toy can now be controlled with your smartphone.
Note:
· You only have to pair your toy once. Next time it should automatically connect to your smartphone.
· This icon
shows the signal of the connection. It will switch to this one
if it disconnects. If paired, it will automatically reconnect.


How To Program
1. After successfully pairing Ambi to your phone, you will see a "Program" button. Tap this button to see the programming options. If you have left this screen you can always go back to it in the Account tab's "My toy" selection.
2. Tap "Adjust Levels" to adjust the first three levels.
3. Tap "Add Pattern" to add a preset pattern onto Ambi.
Note:
Other features in the Remote app will work (like long distance control, playing patterns, syncing to music, etc… but they may not be stable).
Troubleshooting
For additional assistance, use the contact form at lovense.com/contact. Someone from the Lovense team will normally reply within 12-24 hours.